Over time we had bred what we thought would be the ideal family cow. Her name was Lucy and she was a Jersey crossed with a Dexter. We chose the Jersey breed so we could enjoy creamy milk and the Dexter breed for its quality beef. But Lucy would need to get bred in order to get milk. After quite a bit of searching we settled on a naturally polled Red Dexter weanling bull from a farm on Vancouver Island (the "big island"). Being a naturally polled bull, he could not grow horns. We thought that would be a definite plus on our small island farm. We found out previously that trying to live with a horned bull on a smaller sized farm could be a bit of a challenge. And living and farming on an off-the-grid island such as we did, would have other challenges, including transportation. Since a bull would not have been welcome on the little walk-on ferry, we had to make other plans. Those plans included building a sturdy transport crate and bringing the little bull over by boat.
We would need to make the trip to our island from French Creek Marina, located between Parksville and Qualicum Beach on the big island. This marina is lovely with stunningly picturesque views over the Straight of Georgia to Lasqueti Island and the Coast Mountains. The Oceanside area is a mecca for ex-pat retirees. From the census records it has the highest level of pension income in the country. This was sure to give us a ready contingent of experts, with time on their hands and looking for something to do. On the day of transport, it would not take long for an interested gathering of onlookers (all men) to appear. After all, how many times in life does one get to see a young bull in a boarded-up crate, tied up like a Christmas present in chains? The dock's crank crane would do the hoisting up and then unwind itself to lower down the whole contraption (bull included) over to the ocean side. It would be a long way down until all would come to rest in the hold. A few wagers were made on the way up and again on the way down. Fortunately, none were to be won that day.
The open ocean crossing over to Lasqueti Island would take an hour and allow for a little Zen time and lowering of blood pressure. The landing on the other side was to be via the local boat launch. The old vintage farm truck (with no parking gear left) was backed down the ramp and the boat trailer positioned skillfully in the water for the boat to drive onto. With boat loaded and hauled out, off we went. Our farmers' caravan of old truck, old trailer, with freight boat resting on top and young bull in the crate in the hold began snaking its way home. It needed to go through a highly treed Westcoast tunnel of a single lane country graveled road to arrive back home on the farm. With husband riding shotgun up high in the back of the boat, the "big rig" driver, was to be quite pleased with herself.
Once home, the shotgun rider/farmer took over the rest of the delivery. How to get the bull out would require home grown farmer-style ingenuity. The crate and its contents, wrapped up in chains were hooked up to the farm excavator's bucket and all ended well with a soft landing at the intended paddock gate. We were thankful for the confident crew that was waiting in anticipation at home. Lassa and Max, our farm dogs are always excited when new animals appear on the farm. The junior bull would soon be welcomed into his new home.
Greeting her new little man, they "connected", and soon became inseparable.
A year or so later we were blessed with the cutest ever little heifer! We named her Sally.
We now had the Brown family – Charlie, Sally and Lucy.
A few months after the birth of Sally, Lucy was soon pregnant successfully again. Charlie was now a fully mature bull and we started noticing changes in his behavior. The first inkling of the real "personality change" came at a time when the cows were allowed to graze in the higher levels of the vineyard. That is where there is an abundance of winter greenery and in winter the terrain is firm and not soggy. Because of the steepness of the terraced vineyard the cows would typically rest and chew their cud on the very uppermost terrace where they could enjoy a rather spectacular view of the entire valley.
One sunny February morning we decided that it was time for my husband to start pruning the grape vines. Entering through the bottom gate of the vineyard, he noticed Charlie getting up and walking rather quickly along the "Grand Cru", the top ridge of the vineyard. At that angle, Charlie looked bigger than he actually was and when Charlie bellowed down loudly, he drew attention alright.
Eyes were rivetted on Charlie while he descended the central vineyard tractor road. Charlie stopped to investigate a large red metal barrel that had been filled with farm-made charcoal. Something was interesting in there. We had been using the charcoal as part of a biochar process to improve the vineyard soil and for its water holding capacity in case of summer drought. The barrel had been left out and with the winter rains it became full of water-soaked charcoal and was very, very heavy. Charlie continued eyeing the barrel and then made an attempt to tip the barrel over using his upper body. Instead of the barrel going over it rocked back at him and hit him hard. Getting angry at this, Charlie knocked the barrel down on the next try with a head ram, spilling its contents. What a mess, what an act of provocation! Next Charlie stepped into the spilled charcoal and lowered himself to his knees. He put his face in it and proceeded to meticulously smear the charcoal all over his neck and face like war paint. Once satisfied, he stood up truly looking like a devil and then he blew his "Swiss horn", echoing across the valley.
The situation in the vineyard was now getting tense as Charlie resumed his march towards his intended target. With only a pair of grape pruners in hand and contemplating what to do with no reasonable means of escape, relief came in the form of a welcome growl heard coming from behind. It was Lassa, the oldest of our English Shepherd farm dogs. She had been watching the goings on. The situation continued tensing though when Charlie seemed to ignore Lassa's warning and continued on his march. But Lassa had enough of that nonsense, and she charged full on. Charlie was surprised and upon realizing his mistake he ran away jumping over the nearest row of grape vines. This was, however, not before getting a warning bite on his leg from Lassa. "Just to remind you of who the real boss on the farm is."
That evening as we discussed this incident, we were fully aware of the fact that mature bulls can become dangerous. It was just that we had a hard time accepting that our sweet little hornless Charlie would ever want to hurt us. No doubt as Charlie had stood on top of the vineyard looking over the whole farm he had just decided to claim it as his own domain. In his mind the only obstacle to that claim was the farmer. Just to be safe, we decided from now on to have at least one of our dogs present whenever Charlie was about.
The next summer the cows would spend time on a secluded paddock a short distance away from the farm. That paddock had wonderful grass, a large, wooded area and plenty of water. We would check on them every couple of days. One hot summer day, adjustments were being made to an electric fencing line that ran on top of the paddock fence. The cows were looking on while resting in the shade of a large cedar tree. Soon Charlie got up and raced towards the gate effectively blocking the exit. The stage was set for another confrontation. Just in case, a large size tree branch was picked up to use as a shield if needed. My beloved approached the bull cautiously. With the intention to deescalate the situation he used a recent skills training that was called "Non Violent Communication". Charlie was praised for his achievements, his looks and so on and Charlie seemed to like it. He moved his ears one at a time, back and forth. Confident with this approach the walk to the gate was resumed. A head-butting blow was then delivered by Charlie which landed on the hip area. Man was bodily thrown into the fence. Composure semi regained, the tree branch was raised high and unloaded onto Charlie, shattering into pieces. Charlie stood there, rocking a bit with both eyeballs rolling, presumably seeing stars just like in a kid's cartoon. The paddock was exited promptly and during the walk home the rest of the valley could hear the roar of an angry bull. It was a call that would send shivers down the spine. It was rather obvious to both parties that there would not be peace between Man and Beast. The Beast no doubt would be biding his time for another "meet-up".
Charlie's aggressive behavior was still noticeable two weeks later when the cows came back to the home farm. All the farm helpers refused to enter his paddock. My husband now would really only go in with the presence of our farm dogs. At this point the inevitable decision was made easier for us as our heifer Sally was maturing and would eventually go into heat. But we would need to wait for cooler weather.
The farm lies in a beautiful valley with a low-lying sub irrigated meadow forming the heart of it. From the north end a narrow creek enters the meadow and at the other end it widens to accommodate a large amount of water storage that is captured in winter for irrigation. At the end of the widening there is what we call the "Wild Pond", an oasis surrounded by large Douglas fir, giant red cedars and chock full of native Yellow Pondlilies. The lilies are beautiful with heart shaped leaves and a single fragrant yellow cup-like water lily.
There is a wide multi log span bridge constructed close to the pond that allows animals and equipment to travel over. The meadow functions as a flood plain in winter and during the flood time no animals are kept there. But on hot summer days our meadow is the place to be. Our favorite time was always toward the evening when the meadow provided degrees of coolness and the fragrant smells of wild mint would be simply overwhelming. We would sit together on the edge of the bridge observing the dragon flies and all sort of insects and other small creatures in and about the water. We would feel like teenagers at summer camp enjoying freedom. Many of these truly special moments will stay with us forever.
Then as the summer sun went down, the Barn Swallows would retire to their nests and the Nighthawks would pay us a visit. They would come all the way from Argentina to nest on the mountain top. The male birds have a habit of dive bombing but soon even they would fly back to their tree perches before it would get pitch dark. It is then that the real night warriors, the bats, would come out in large numbers. They would scoop up any lingering insects and eerily fly just skimming over the tops of our heads using their echolocation. With their arrival it would be time to head home.
Our meadow has seen so much over the years, mostly enjoyable but sometimes a dramatic moment or two would shake us out of fairyland. This meadow moment, the ultimate "High Noon" moment, was about to take place with Charlie as the central character.
That day I was taking a break on the upper balcony with full view of the farm meadow and the vineyard. I could see my farmer husband pulling out his favorite piece of farm equipment from the barn, an Italian walk-behind tractor. It was self-propelled and was fitted with long arms for control. It also came with different attachments. Today would be haying time on the soft meadow so the large hay cutter blade implement was attached to the front. Once in action the machine is quite loud with a disturbing clattering sound that animals would always run from. The cows were resting on the other side in another paddock under the large cedar trees with a good view of the meadow. All looked so peaceful as they were laying on their bellies and chewing their cud. At one point our Charlie got up and started to move towards the meadow. Perhaps, I thought, he had noticed that our farmer was without any dogs? But not to worry, there was a wide canal between Charlie and the meadow being hayed. But then Charlie did something I hadn't seen before. He cleared the wide and deep canal, jumping over and landing on the hay meadow proper. Once on the meadow he started aggressively ripping the soft grass turf exposing black muck with his front hoof. He then repeated his warrior routine and lowered his body to smear black muck all over his neck and face. Once ready for a fight he again blew his horn and started to run toward the machine. While operating the hay cutter you wear ear protection. I could see that luckily my hay cutter operator appeared to be aware of the bull and was watching attentively. Once the bull got closer, the loud and clattering cutting blades were turned towards Charlie. That temporarily sent mister bull back and away but after a while Charlie changed his tactics and started to circle the farmer and his machine. As Charlie ran, he again added the blowing of horn just to complete the scene of an old spaghetti Western. Pretty quickly, as enough was enough, the tractor was stopped. The dogs were called from the barn and into action. Eagerly waiting for permission to act Lassa and Max chased Charlie back to the woods. At this point all thought that the incident was over but apparently Charlie had a different idea.
As Charlie stood invisibly in the shadow of another tree, he watched the dogs wander off toward the pond to hunt bull frogs. From this vantage point he could watch the field being worked across from him and as soon as the farmer's back was turned Charlie ran down the hill once more and jumped over the Rubicon. Once back on the meadow, he did not stop to announce his arrival. Instead, he lowered his head and started to run clearly aiming at the back of the unsuspecting. I quickly realized the horror of the situation but considering the protective earmuffs, no amount of yelling would help. It was then, at this dire moment, I saw a dark coloured bolt coming from the shadows of the side of the barn. It was Maya, daughter of Lassa and Max.
Maya had been born on the farm, one of a litter of eight puppies. Maya had a difficult birth and was the weakest of the litter. She would often get punted off Lassa's teats by the other stronger puppies such that I had to intervene and help her to feed. I would keep her on Lassa's last nipple at each feed with one hand holding Maya tight, while the other hand would make a guard barrier from the other puppies. Maya grew well with this extra care.
At eight weeks old all the puppies were spoken for and would be moving to their new farm homes. Maya was to be taken by a woman from a nearby island. Just before the time of transfer a small swelling was noticed on Maya's back leg and we all thought it was from wasp bites. It was one of those wasp plague years. I kept in touch with the new owner over the next couple weeks to keep checking on Maya's progress. Then one day I received a phone call with much sobbing on the other end of the line. A prominent vet from Vancouver had diagnosed Maya with a grave condition with little hope for a good outcome. Of course, I immediately offered to take Maya back and arrangements were made to meet up in Nanaimo. The appointed place was to be the Superstore parking lot. I felt a lot of pain for the relinquishing owner as she was handing Maya over to me. Maya literally leapt out of her arms and into mine and in front of everyone proceeded to eagerly lick my face all over as if to say, "Mommy, I'm home!" Maya would be considered our special needs child from then on.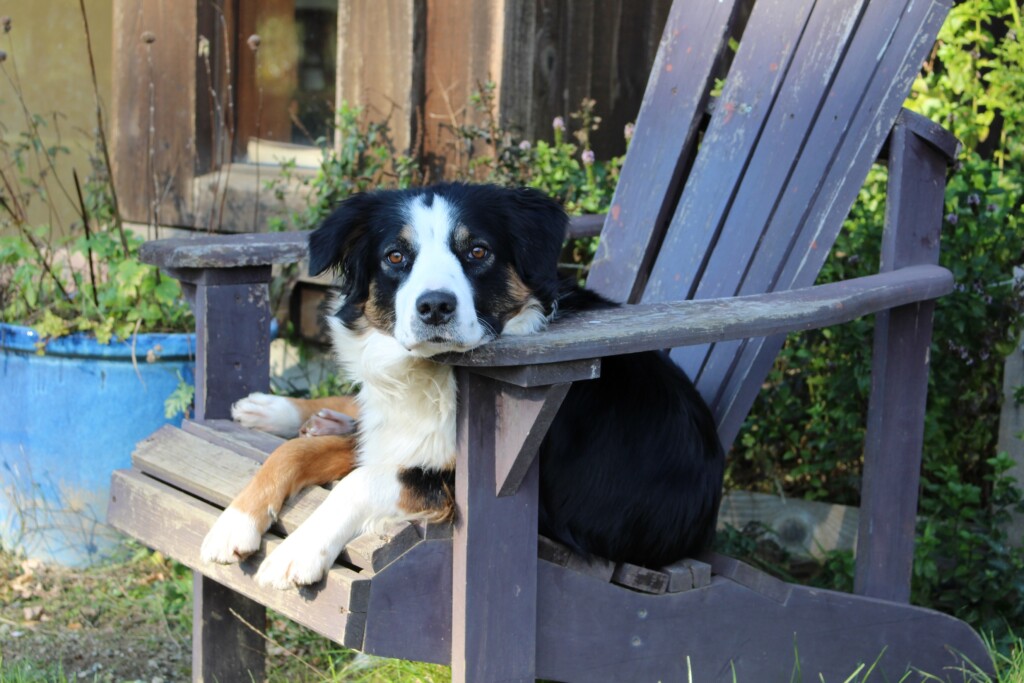 Maya's rear leg swelling did not resolve as we hoped for though. And one evening early on she had a major setback and we were even preparing to say goodbye to her. She fortunately recovered by the next day and has never looked back. Maya is now nine years old. She has a phenomenal zest for life. We often joke, it is a good thing that Maya has not read her medical report. She functions well and only very occasionally needs to rest up a bit. When my husband opens the door in the morning Maya runs enthusiastically, prancing like a pony to the bedroom to find me and lick my face. Once that mission is accomplished, she would quickly run back to be with hubby in the kitchen. Coffee is made and porridge is started. On those dreadful dark winter days when a southeast wind is driving cold rain and the farmer is hoping for his second coffee, Maya would always be standing by the glass door pointing toward the barns. It is time to do animal rounds, guilt sets in and the second coffee must wait.
Our farm buildings were built in a semicircle, beginning with a chicken coop for the younger ones, a cattle loafing barn, then pigs, horses and ending with the last building which hosts the goats, older laying hens and a rooster.
Doing the rounds Maya always leads the parade with farmer in the middle, and Lassa and Max bringing up the rear. Occasionally Maya would disappear to be found pointing to the garage loft where Bobby the cat was residing – whoops someone forgot to feed the feline! The last "station" is Maya's favorite. That's where milking the goats happens. She watches for the goats to come out and jump up on to their milking stand. If there is any delay, she will be like an olden days schoolteacher with a ruler to reinforce smooth movement. Maya however is gentle with her reinforcement as truly the goats are her favourite animals. For all the hard work, Maya gets a little warm milk in a cup. She craves that moment the whole morning. Next the milk gets filtered, put in the fridge, the dogs get their breakfast and it is only then that we can enjoy our breakfast together. During winter there is less for the dogs to do, so after breakfast Maya will wait to come into my office. When invited in, she will chatter her teeth in excitement but then knows to be quiet and lays down by the wood stove while I talk to my clients across the country. She thinks she is very important as the self-appointed "home office" dog.
Maya always gets along with everybody but for some reason she never really liked Charlie and got to like him even less as he began testing everyone's patience on the farm. At times Maya would chase Charlie for no good reason, which we don't tolerate and she would be scolded. Being an obedient dog, she would stop the chase and with head down start walking back home. But then she would stop to raise her head and look back at Charlie as if to say to him, "One day I am going to get you."
That day had come. Unnoticed by all of us, Maya had been resting in the shadows of the loafing barn and also had a good view of the meadow. She was watching the spectacle and at that moment she decided to act. She could see that Charlie was up to no-good and importantly she knew that her master was in great danger.
In order to save precious time Maya skipped taking the bridge and instead ran straight making a gigantic leap across the canal. Landing with a splash on the other side she quickly regained her speed. Maya, despite her leg condition, is by far the fastest animal on the farm. She was coming in at the right angle, desperately trying to prevent the bull from reaching his intended target. Cattle have excellent peripheral vision. Soon Charlie could see Maya coming out of the corner of his eye. At barely twenty-five feet away from his target he made an abrupt and sharp turn to his right. The soft ground shook in the process and only then did the farmer realize what was happening. He turned his machine around, but it was not him who was in danger anymore. With Maya in hot pursuit, it was Charlie, who was now running for his life. Bulls are fast runners, but as he was about to jump back over the canal, he exposed his precious jewels.
It has been my observation that farmers of the male persuasion tend to be particularly proud of a well endowed bull. Well, our Charlie was not quite so well endowed but still he proved to be an easy target for Maya. A big moan was heard and Charlie, perhaps more wounded psychologically then physically, disappeared into the woods not to be seen for three days. With her nemesis out of sight, a celebration followed on the meadow. Maya ran in circles with her tail held high. We ran to hug our precious hero.
The cold weather eventually did come and life would go on. At departure Charlie allowed us to touch his forehead and say goodbye.
These amazing experiences on our small island farm led us to want to create another paradise, again from scratch. Our next farm was to be a full-sized ranch in the southeast Kootenays of British Columbia. We call our new place River Valley Ranch. It's on the Kootenay River and near the base of the Rocky Mountains. Here we are raising registered purebred Scottish Highland cows. We now have room for more than one bull in the large Ponderosa Pine Grassland pastures.
They all have horns – very big ones!